Regain your beauty and health with LYC Postpartum Recuperation Package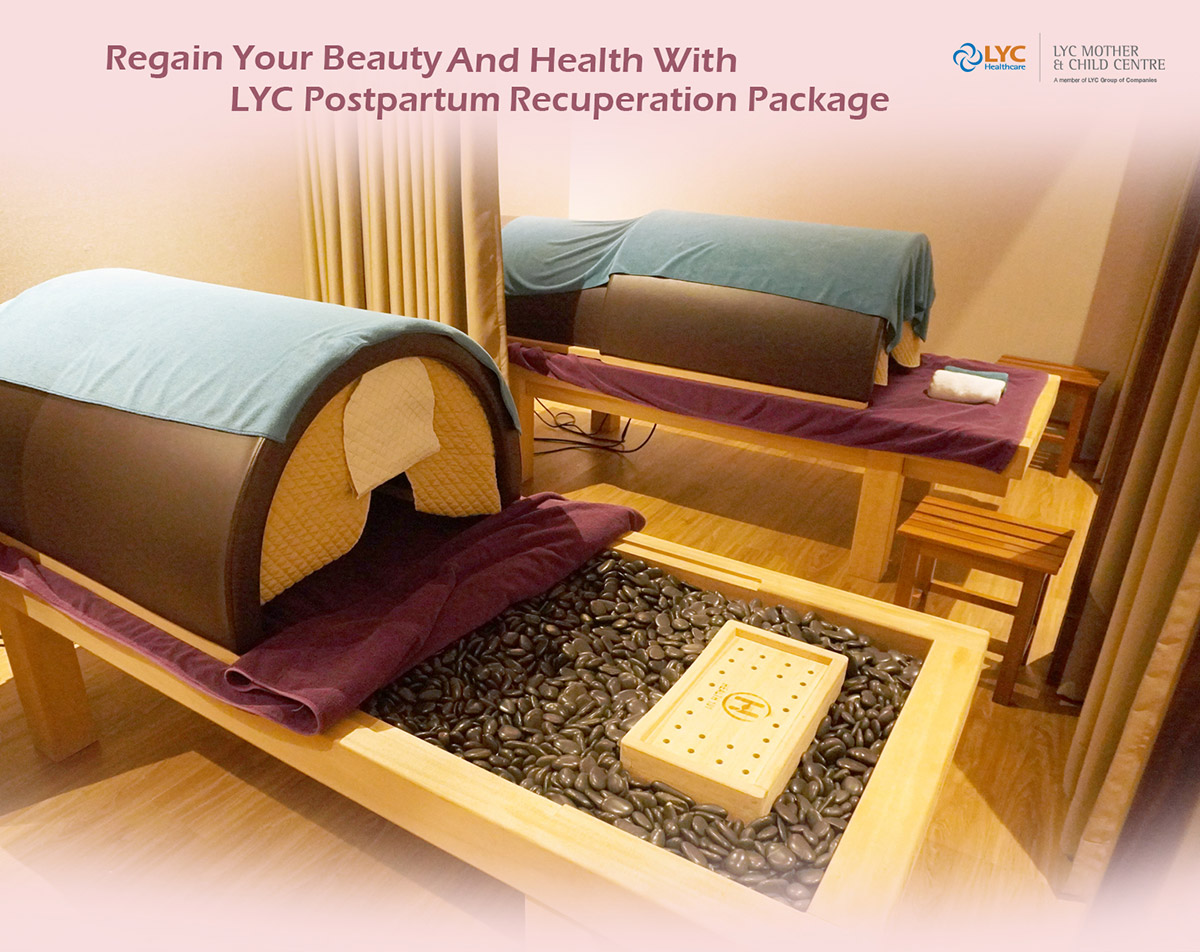 After going through ten months of pregnancy, what a relief it is for mummies to finally welcome their little bundle of joy, start the confinement process and enter the stage of postpartum recovery. In fact, if the confinement is done right, mummies will become more beautiful and healthier than they were before pregnancy. In the first two weeks, lochia will start to return to normal menstrual flow, and the uterus gradually shrinks to the state before childbirth. With the Postpartum Recuperation Package, we provide professional care to ensure that mummies can produce a stable supply of milk, develop good breastfeeding habits, while also completely eliminate toxins from the body, in order to sculpt a better, more toned, and more beautiful figure!
With our many years of postpartum care experience, LYC Mother & Child Centre combines traditional confinement care and scientific medical techniques, to ensure mummies get off on the right food and are fully prepared for their confinement period. We are here to help mummies improve their physical fitness and enhance physical strength in just one month, enhance the body's immunity, and experience the four stages of postpartum physiological changes:
Week 1 ▶️ Dispel blood stasis and regenerate new blood, strengthen the spleen and stomach.
Week 2 ▶️ R ecuperate health and increase blood circulation, promote lactation.
Week 3 ▶️ Strengthen the liver, kidney, bones and muscles.
Week 4 ▶️ Replenish qi and blood, prevent back pain.
Why choose a confinement centre with professional postnatal care services? LYC Mother & Child Centre has the experience of taking care of more than 4,000 mummies and babies and truly understands the benefits that professional confinement centres can provide to mummies and babies:
Dedicated caregivers to assist with breastfeeding and provide guidance on baby care
Mummies are able to get sufficient rest at night
Reduce your number of visits to and from the hospital
SOP strictly observed to reduce the chances of infection
Highly nutritious confinement meals prepared by professional culinary team
Monitoring of postpartum mood swings
LYC's Postpartum Recuperation Package include:
Five nutritious confinement meals a day served by experienced chefs
Delicious meals carefully prepared by certified nutritionists
Daily herbal bath
24-hour nursery care service by professional nurses
doctors to monitor your health condition
lactation consultation with experienced Certified Lactation Specialists
Various educational programs on childcare by professionals
Post-natal yoga and wellness classes provided by professional instructors
1-to-1 guidance by nurses on breastfeeding
Professional guidance to prevent breast engorgement and mastitis
Jaundice level monitoring
Moms who sign up for the 28-day Comprehensive Package will also get a unique postpartum repair package which includes:
Moms who sign up for the 28-day Comprehensive Package will also get a unique postpartum repair package which includes:
The first confinement centre in Malaysia with a Japanese Onsen Hot Stone Spa to help mummies detox and reduce water retention and edema.
Hot ginger hair wash and shoulder massage with ginger essential oil to dispel pathogenic wind and cold from the body.
Premium dietary fibre to prevent postpartum constipation.
Water soluble pearl powder imported from Japan that helps to calm nerves.
Family portrait
"My 1st Little Step" commemorative photo album (*Only for customers who sign up for Premier and VIP package at TTDI and Bukit Jalil branches.)
To enjoy the professional postnatal care services you deserve, send us a private message for more details:
TTDI: wa.me/+60126277335
Puchong: wa.me/+60125687335
Bukit Jalil: wa.me/+60173627335
Johor: wa.me/+60122927100